Please note that the Council is not responsible for the content of any links listed here.
Croyland Abbey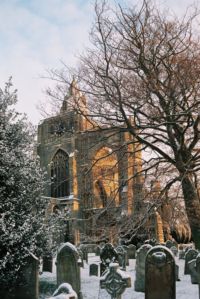 Although an ancient monastic abbey this is now the parish Church of Crowland. Find out more here.
Trinity Bridge
This is the unique 14th Century triangular bridge that stands at the heart of Crowland.
The Arrival, South Street Green
A new work of art, depicting the arrival of St Guthlac to Crowland.
Crowland Community Hub
The former library has evolved to become a hub for the community - it's a library, it's a cinema, it's a craft fair, it's a party, it's a venue. Find out more here.
Crowland Caravans
Located at the rear of the Garden Centre they are specialists in meeting your entire caravan and camping needs. Find out more here.
Charm Tree, Corporation Bank
The Charm tree offers fruit 'charms' designed by local school children to show what, in their view, makes Crowland special and distinctive.
Wildlife Pond & Picnic Area, Gravel Causeway
A pleasant area to the north of Crowland, located near the River Welland.